About Us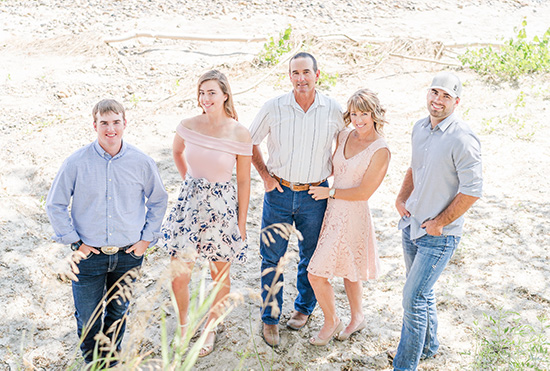 Steve & Melanie Lund Family
Lund's B Bar Angus Ranch, started in 1957, is a third generation in the registered seed-stock Angus business. Located in eastern Montana 30 minutes south of Interstate 94 running through Wibaux, you may get to our ranch by traveling south on Hwy 7 to the Carlyle Road turning east for three to five miles. Visitors are always welcome.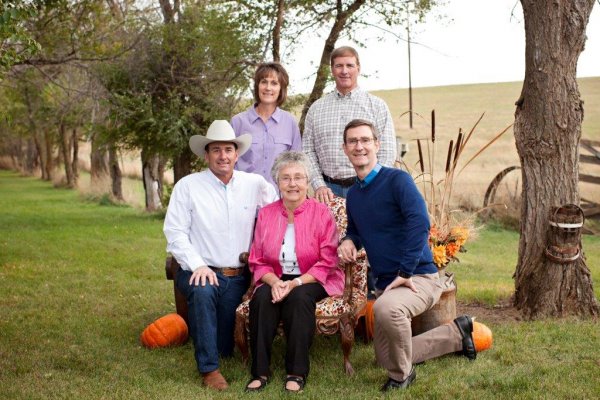 Lund Mom & four chlidren
Since the beginning when our herd was started, the selection has been for deep chested, easy keeping cattle. The majority of our cows are a 6 frame package. Good udders and good feet are essential because we require our cattle to travel for their spring, summer, and fall grass. On the occasional open winter we require the same, but typically due to horizontal flying snow and flat rolling hills, we feed grass hay. Culling cattle is the best part of our job. Poor feet, poor udder, production, disposition, confirmation, mentality, is whatever will send that cow to town - hence our motto to always "Seek the Balance."
Ethel Lund
Our annual precipitation is around 13 inches of moisture. We have a small grains operation to complement the ranching operation. We try to grow almost all our own feed for our bulls and replacement heifers, and put up all our own hay.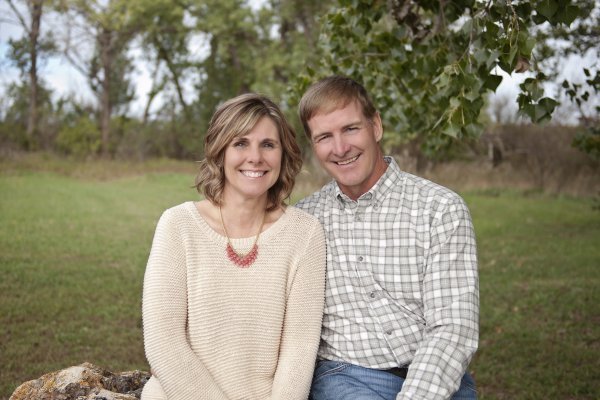 Rob and Kara married October 2014
This operation is family run with family members only.  Mother Ethel, Rob & Kara, Steve & Melanie and children Bob, Cooper, and Hope all pitch in to help with the day to day operation of the ranch. We have an annual production sale that we sell around 90 bulls each year on the 4th Saturday in March in Baker, Montana, at the Bull Palace located on the north side of town on Hwy 7.
Lund's B Bar Angus Ranch Annual Bull Sale 1pm * Saturday, March 26th, 2022
Selling 90 Bulls
Thank you to our faithful customers - ALL of you who bid, buy and have faith in our program! The 2021 bull sale is in the books and we couldn't be more grateful for everyone who came, visited, bid, & bought. We pray a blessing over the bulls that they will prosper you and your livestock. There was shear joy on people's faces in just being able to come together again. We are so very grateful for this way of life we all live, ranching & farming. You are the salt of the earth. We will continue to pray that God would guide, protect and direct us all - in our lives and livestock decisions. We do not want to live in fear, but instead live in faith of the One Who loved us so much, He gave His Son Jesus. We believe that we will "see the goodness of the Lord in the land of the living."
(Psalm 27:13)
2021 B Bar Sale Results:
82 bulls at $5695
Top sellers:
Lot 673 B Bar Conviction son purchased for $13,500 by Tennis Ranch, Vale, SD
Lot 097 B Bar Conviction son purchased for $10,500 by Tennis Ranch, Vale, SD
Lot 84 B Bar Righteous son purchased for $10,500 by Bar 7 Cattle Company, Lindsay, MT
Lot 822 B Bar Black Mass son purchased for $9,500 by Echo Valley Angus, Scraton, ND
Lot 832 B Bar Righteous purchased for $9,250 by Keltner Ranch, Terry, MT
Lot 025 B Bar Black Mass purchased for $9,250 by Keltner Ranch, Terry, MT
Lot 200 B Bar Conviction purchased for $8,500 by Wolff & Sons, Lindsay, MT
Lot 023 B Bar Balance son purchased for $8,250 by Kindsfater Angus, Belle Fourche, SD
While these are the top sellers, EVERY PERSON who came is important and valued! We sincerely appreciate each and every one of you.